A new way to assess social and emotional skills
Research
2 Aug 2019
4 minute read
Field trials of a new measure of social and emotional skills from the OECD have just been completed, reports Dr Sue Thomson, ahead of a Research Conference 2019 presentation.
Though large-scale international assessments can influence national education policy, they sometimes fail to capture the underlying traits that really matter.
The OECD says 'children need a balanced set of cognitive, social and emotional skills to adapt to today's demanding, changing and unpredictable world'. A growing recognition among policymakers of the importance of social and emotional skills, supported by research showing a strong link with life outcomes, has created a demand for a way to accurately measure their presence.
The OECD Study on Social and Emotional Skills will assess the abilities of 10- and 15-year-old students to determine which measures help – or hinder – skill development. The study is being project managed by the Australian Council for Educational Research (ACER). Field trials designed to test the study instruments were conducted by ACER with 14 000 students in 11 cities in late 2018. The participating cities are from Canada, China, Colombia, Finland, Italy, Portugal, Russia, South Korea, Turkey and the United States.
It is generally more challenging to assess social and emotional skills than more objective factors like cognition or physical growth but a sophisticated measure designed to capture hard-to-quantify qualities underpins the study. Nineteen specific social and emotional skills arising from psychology's 'Big Five' personality factors, as shown in the graphic below, will be measured.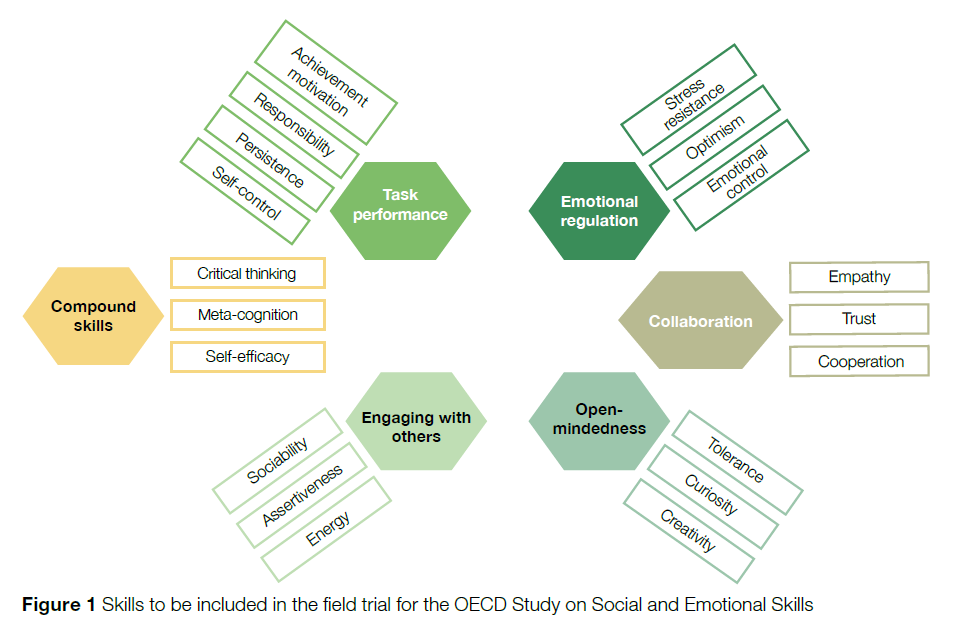 Students self-report against these measures and provide contextual information about their family and peer relations, school life and wellbeing, attitudes and aspirations. Parents and a teacher who knows the student well respond to the same items, thereby allowing the study to compare across home and school domains, and paint a picture of skill development across childhood and adolescence.
Findings from the field trial are naturally less robust than those expected from the main survey but nonetheless reveal some interesting insights. Take, for example, the perceived treatment by mother scale, which was based on questions like 'my mother helps me with my problems' and 'my mother respects my feelings'. A strong positive correlation was found between perceived treatment by mother and optimism ('I believe good things will happen to me') for both the younger and older cohorts, while there were negligible links with assertiveness and critical thinking. See figure 2 for more.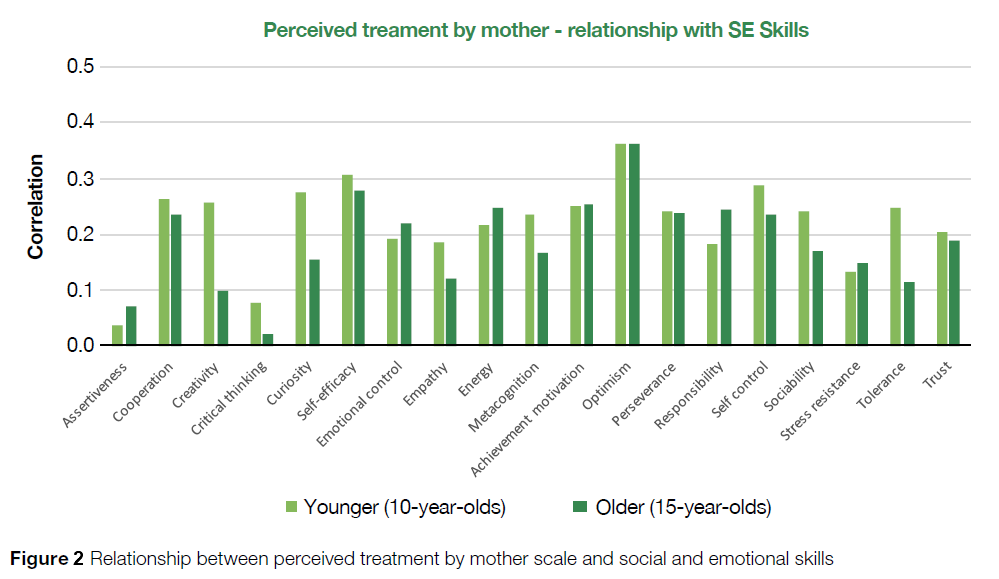 Seventeen scales and many more items than will be used in the main study were field tested, and rigorous analysis over the past six months has identified items that don't work or are superfluous. The main survey of 6000 students aged 10- and 15-years in a random sample of schools in participating cities takes place in October-November 2019, with results to be reported in September 2020.
Further information:
Dr Sue Thomson's presentation, Assessing and Understanding Social and Emotional Skills: The OECD Study on Social and Emotional Skills, will be delivered as part of Research Conference 2019 in Melbourne from 4-5 August.